While the Middle Eastern party scene is known for champagne popping at VIP tables in the Gulf, and David Guetta shouting at the crowd to put their hands up, there's an exploding underground scene that is all about the music. A wave of venues has launched across the region in recent years aiming to cater to a new breed of Arab audiophiles who, for lack of a better term, know their shit.
So we've gathered a list of these establishments to guide you where to go to listen to some proper electronic music in the Middle East. Our selection wasn't based on how renowned the venues are, or if they have the occasional alternative or underground act, but on their dedication to promote exhibiting talents, outstanding music, and create a setting that will take the experience to a new level.
Analog Room / UAE - Dubai
A Westin Hotel isn't the first place you'd go to for underground music, but in a busy five year period, Analog Room founder Mehdi Ansari has succeeded in cultivating a more educated music scene in the middle of Dubai's posh nightlife, that mostly relies on champagne showers and V.I.P tables. Analog Room's booking selection is always on point; with names like Roman Flügel and Berghain resident Efdemin, this club is definitely the place to be for music lovers in Dubai.
Follow them on Facebook for more info.
Address: Industrial Avenue Westin Hotel, Dubai, United Arab Emirates.
CCC Floor 18 / Egypt - Cairo
Founded by arguably the leading event organiser and biggest pusher of electronic music in Egypt, Nacelle Floor 18 sits high in the sky in the largely calm and demure Garden City at Cairo Capital Club. But Floor 18 isn't only a landmark for Nacelle, but also for clubbing as a whole in Egypt in being the first venue of its kind to offer a multi-room experience. Having been used to bring back one of the city's most cherished clubbing series, House Sessions, the mere fact that Nacelle now has its own space is a game-changer for the organisation.
Follow Nacelle on Facebook.
Address: 9 Rostom St.,Garden City, Cairo, Egypt.
CLOSR / Lebanon - Beirut
Following a low-key internet marketing strategy, CLOSR is Beirut's latest addition. Located in a former 2 floor workshop on the seaside road Karantina, the cryptic venue delivers an intense clubbing experience with their industrial Berlin-like theme. The club has a promising booking schedule, having brought in huge house, techno and minimal names such as Ellen Allien, Gardens of God, Shall Ocin and many more.
Check their Facebook page to know about the coming bookings.
Address: Bourj Hammoud, Karantina, Beirut, Lebanon.
CLSTR / Jordan - Amman
Being the first of its kind pop-up club in Amman, the first season of CLSTR was located at a cinema, now FUZZevents' first man Fayez Burgan has taken the second season to an underground exhibition space. Offering a diverse palette of party styles that range from hip-hop to house music to disco, the club is now taking lead of the electronic music scene in the city, and has many local and regional names to put their work on display for the Jordanian crowds, not to mention their big international bookings such as Bedouin and Hernan Cattaneo.
Be sure to follow them on Facebook.
Address: Dhi Qar St., Amman, Jordan.
Kite / Turkey - Ankara
Lying in Turkey's cosmopolitan capital Ankara, Kite is the leading cultural underground venue consisting of a nightclub, a performance hall and a lounge café, which is trying to shape the atmosphere of electronic and live music. It is Ankara's place to go for stellar bookings ranging from Adana Twins to Ray Kajioka.
Be sure to check their page for upcoming events.
Address: Güvenlik Caddesi No 97 Ayranci, Çankaya, Ankara, Turkey
Garaj / Turkey - Istanbul
Forget about döner kebabs and the Hagia Sophia - head down to Garaj, a venue dedicated to producing new, contemporary, creative nights, and hosting talented artists. The former parking lot offers a vivid live audio-visual experience to culturally educate a generation of music passionate youth. Their diverse nights range from techno to more traditional folkloric events.
Visit their Facebook page for the latest updates.
Address: Tomtom Mah. Yeni Çarsi Cad. Kaymakam Resat Bey Sk. No 11a, Galatasaray-Beyoglu, Istanbul, Turkey.
MiniMüzikhol / Turkey - Istanbul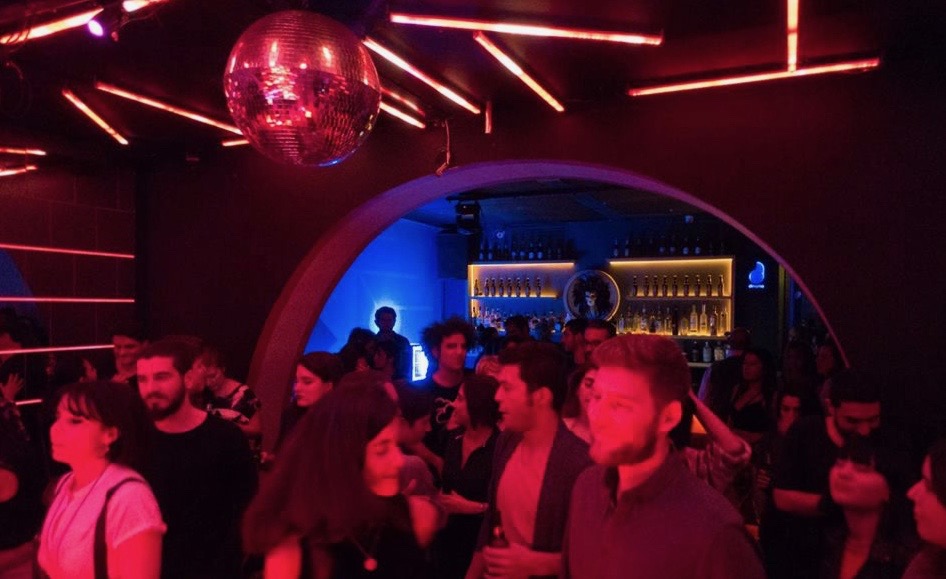 Founded in 2009, MiniMüzikhol is one of Istanbul's premiere nightclubs that has helped put the city on the electronic music map. Founded 9 years ago in 2009 as the latest generation of collectively run music and art space by S.O.A.P & Friends, the cozy place has hosted many of the electronic music veterans such as Moodyman and Robert Johnson, and have even hosted Berlin's well known Kater Blau for a night. Make sure to have your name on the guest list before heading to the club, as it is known for its hardcore door selection.
Check their page to stay up to date with their event schedule.
Address: Cihangir Mahallesi, Soganci Sk. No 3, 34433 Beyoglu/Istanbul, Turkey
The Grand Factory / Lebanon - Beirut
Owned by Beirut based DJ Jade, The Grand Factory is a pulsing, hard partying venue. Perched high on the roof of a former mattress factory, the venue is distinguishable from other clubs in the city because of its industrial cachet, with a breathtaking panorama view of the mountains and the sea. In addition, the club offers the only two-room experience in Beirut with their newly opened room - Reunion, hosting true musicians ranging from house and techno to experimental music and rock n roll. They also opened a seasonal outdoor space that goes by the name of AHM, expect it to be a staple summer venue in the coming years, based on the success they amassed this past summer.
Follow them on Facebook.
Address: Sea Side Road, Karantina, Beirut, Lebanon.
Überhaus / Lebanon - Beirut


Located in the urban recesses of Beirut El Hamra street, Überhaus became a nightlife powerhouse the minute they sprang up in the scene. The venue was opened in 2012 and has been spearheading the region's underground nightlife ever since. Known for its acoustics that deliver an exceptionally clear sound, Überhaus delivers a unique visual experience to the clubbers with their whale-shaped dome and the surrounding RGB LED light bars.
For more info visit their page on Facebook.
Address: Beirut International Exhibition & Leisure Center, Beirut, Lebanon.
The Gärten / Lebanon - Beirut
From the creators of Überhaus, The Gärten is an even more popular outdoor summer venue ideally located near the Beirut Exhibition Center. Unlike the norm, this place has created a trend in Beirut's nightlife that is still going strong; it has been open for six years now, and continues to kick ass. Surely, the gigantic structure surrounding the clubbers, along with epic bookings of world class names such as Âme and Solomun give this place an edge among other venues in the region. This is the ideal place to see the sunrise after a long night of partying.
Be sure to check their Facebook here.
Address: Beirut International Exhibition & Leisure Center, Beirut, Lebanon.
Zigzag / Egypt - Cairo
Located amidst the decaying nostalgia of Downtown Cairo, Zigzag is the latest club to take up residency in a space that has hosted a long line of very different club concepts. Having opened in 2015, Zigzag has succeeded in what many pretenders before it have failed – to provide a space for a more refined electronic music experience and its finest musicians, by booking both the hottest up-and-coming talent and the heavy-hitters of minimal, techno and house. They also showcase underground talents across a span of other genres.
Be sure to follow Zigzag on Facebook.
Address: 6 Kasr El Nil Street, Downtown, Cairo, Egypt.