The Khaleej (Arab Gulf) nations aren't exactly the first to be associated with psychedelia, though a landscape defined by stark and sweeping deserts punctuated by spires of palm and glossy skyscrapers, sands that blend seamlessly into crystal blue water concealing pearl lined floors, and human culture dating back to antiquity could in fact epitomise the surreal.
Kuwait is a nation with deep musical roots, based largely on the seafaring heritage of the nation, characterised by unique rhythms and influence from the Swahili coast and South Asia. One example of Kuwaiti music is fidjeri, the songs sung by pearl divers backed by clapping and drums.
This unique flavor of rhythm and song, a direct human interpretation of that liminal landscape between earth and sky, is what drew psychedelic indie band Galaxy Juice out of space to settle in Kuwait. They were gracious enough to fill us in on their history, what drives them musically, and their plan to save the human race.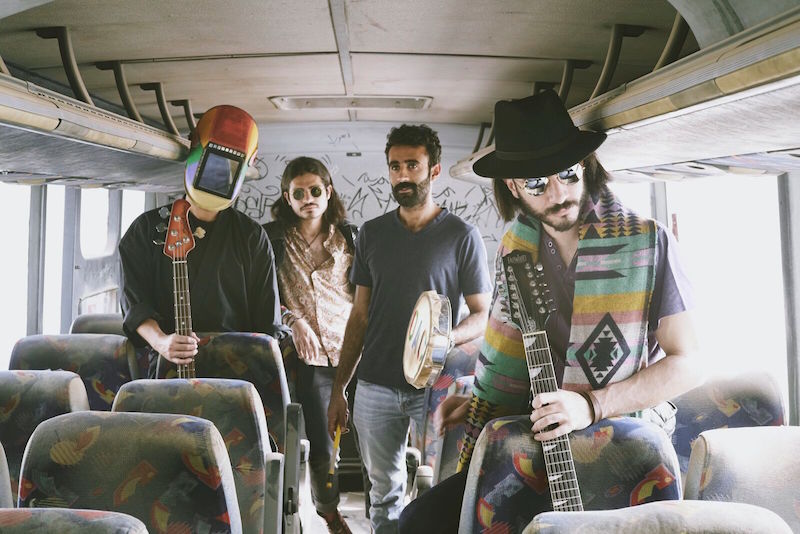 What is it like in space?
Space is very wide with infinite possibilities just like our music. We are always moving from one place to another in terms of styles and sound and we are always trying to discover ourselves on different planets.
Where in space are you from, and why did you choose Kuwait?
We came from the Whirlpool Galaxy, also known as Messier 51a, about 23.16 million light years away from Earth. We chose Kuwait because of its obscurity in terms of music, and we wanted learn the rhythmic percussions of the desert and sea.
How did you all get your names?
We got our names from the families we adopted ourselves into, and our nicknames we gave to ourselves.
How did you guys get together?
We met way back in high school...we used to play in two rival rock bands that eventually became Galaxy Juice around 2013, almost 10 years later.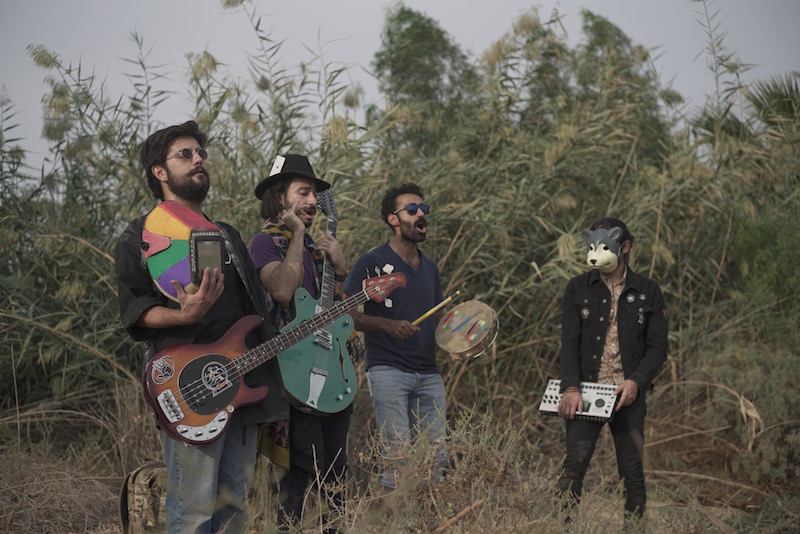 In 'Let's Hide in the Dust (Of Our Own Town)' the Khaleeji influence is obvious, with the Kuwaiti clapping and rhythm. Is traditional music generally an influence?
This track is an all-time favourite in our country. Yes traditional music is one of our main influences as we try to infuse that with elements of electronic and rock.
What is behind the choice to write lyrics in English as opposed to Arabic?
We are reaching the whole world with our music and we think English is understood by more people in the world, but that doesn't mean that we will never use Arabic in our songs - anything is possible.
What is the music scene like in Kuwait?
The music scene in Kuwait is in a state of constant growth. When we first started in 2013 there were hardly any bands or shows but nowadays there are almost two shows happening every week, from all styles of music like jazz, rock, acoustic and more. We are glad to be part of this growth period.
Tell us a bit about the video for 'Awaken the Sunshine.' Where was it filmed?
Shooting this video was quite a trip. It was shot in Jal Al Zour desert in the middle of nowhere and was directed by our friend Minatur. It was very tiring but was worth it in the end.
What are the main inspirations behind your music and aesthetic?
We are inspired by '80s sci-fi as this was the period we were all born into. Also surrealism like Salvador Dali and Alejandro Jodorowsky... We are very interested in film and art and we like to experiment with those fields as well.
Have you guys toured internationally?
Yes we played in a few counties outside of Kuwait like Bahrain, UAE and Thailand.
Any music coming out soon?
We are currently working on our third album and working on a new live music and visual experience. We will announce all that soon.
How do you plan to save the human race?
We will save humanity with the power of love and music. A lot of people underestimate the power of music and how it can change a person, so we are hoping that our music can change and influence people to be better versions of themselves, and that will help the world become a better place.