If you've partied in Beirut at any point in the past 14 years, chances are you've been to a party that was associated with Jade in one way or another. Starting with organising unlicensed beach parties, followed by opening The Basement shortly after, Jade has been an ever-present figure at the crossroads of dance music and the entertainment business. He is the owner of Beirut's arguably most successful super club, The Grand Factory, along with its sisters Reunion, and Soul Kitchen, all residing at the same address, the abandoned rooftop of a mattress factory; and AHM, the mammoth-sized complimentary outdoors summer venue. Funny enough, Jade never sought the club owner life; it was an entirely organic flow of events that led him to the position he's in today.
Clubbers unfamiliar with him might perceive a towering entrepreneurial figure who gives an aura of a cunning, monopolising business mogul more than anything else. But this couldn't be further from the truth, as Jade is much more than the sum of his venues; he's an individual and a musician who survives and thrives on the sole purpose of pursuing and sharing good music, music that he believes in.
Some might argue that Jade now controls the lion's share of Beirut's nightlife, and rightly so - but he did not set out to achieve that. In fact, it was him staying true to his mission while others failed to come up with a competing one that ended up keeping him head and shoulders above the rest.
Jade is supported by his 157 person strong TGF family, with an essential creative and operational nucleus at the heart. That nucleus consists of Tala Mortada, Jade's main partner and Chief Creative Officer and Wassim Bou Malham (AKA Wass, Chief Marketing Officer). "Tala joined the crew in 2011 as a designer first and quickly added her magic to all our communication and art direction, elevating the brand image. She later was involved in all strategic decisions, and became my most essential partner in all the ventures that followed," Jade elaborates.
Start small, because when you start big you're buying people's loyalty. You can't buy people's loyalty; you can only buy it for a little time, and when you want to actually have a loyal following, you don't get it with big bookings.
The mission is simple; creating memorable experiences rather than selling tickets, spending on mesmerizing production rather than on immensely overrated headliners, and above all maintaining a love for music that resonates through every event. It's as if Jade's presence in the scene is a way of stating "If I don't do it myself, no one will."
We meet up with Jade at a hotel rooftop overlooking a rarely tranquil Zamalek on a Friday at high noon. He had flown into Cairo the previous evening and was set to play Nacelle's Floor 18 on the night of our interview. It's hard to imagine how he finds the time to run The Grand Factory along with other projects in and outside of Lebanon, it's harder still to wrap your head around how he manages to maintain a regular touring schedule while fathering a superclub, partnering in 27 studios in Berlin as well as a new record store in Beirut, all at the same time. Speaking of difficult, we couldn't possibly discuss everything that this man had done or what he's even up to for that matter. But we did our best in attempting to paint a picture of how everything started, and how all his endeavors fell into place.
Blend (1996-2004)
It's a little known fact today that Jade wasn't a DJ from the get go. He started as a lead singer of one of Lebanon's first English language rock bands, Blend. Together they released their first and only LP entitled Act One in December of 2003 on EMI.
"Blend is actually my college band. After we finished university, I got a job abroad and I left. And then I came back for a visit about a year after I left, and we recorded a few songs, and then a demo got sent and we got signed." While the band gained traction and secured a sizable fan base at home, even catching the eye of many international music journalists and critics from Europe, soon after Act One, the outfit disbanded rather prematurely.
"We had a contract for three albums but we couldn't continue, it wasn't easy to. There was no social media back then, no Facebook, nothing," he says, elaborating that they had a huge stage rider. "It wasn't easy to take a band of six people, first of all to fly them to perform abroad when there's no social media... It's not like Britney Spears or something, that if people listen to it for the first time they connect to it. So yeah, it was a little bit ambitious." As a result of the difficulties that came from touring, and pressure from their label to produce a hit, Jade found himself focusing more and more on his DJ career.
DJ Career (2003)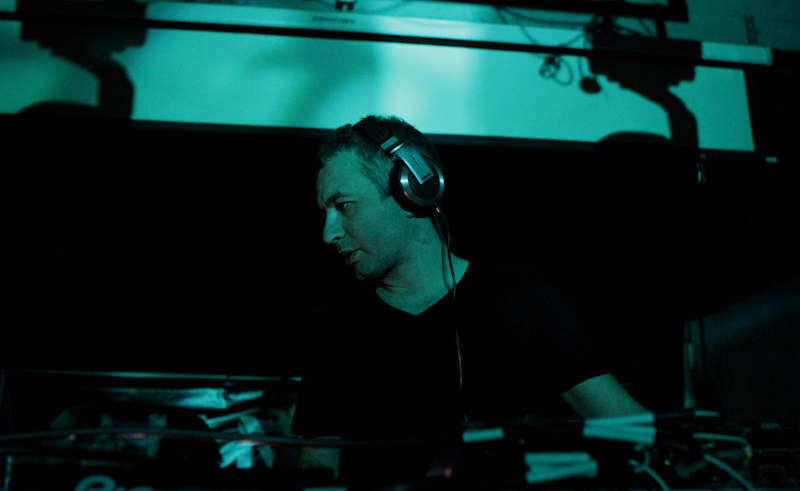 Around the time Blend closed shop, Jade's DJ career was already up and running. He considers it a coincidence, as he never intended for it to play out that way. "I was DJing in parallel when Blend was active because I had a big record collection. So when we were in the studio all the time, I was free at night. Maybe two, three nights a week I was DJing just to make ends meet because I had quit my job to work with the band. In 2003 my DJ career was picking up without me ever wanting it to. I never said I wanted to become a DJ, I was playing my music and it was very natural, and I guess that's the point. Back then when everyone was playing Buddha Bar and lounge and all that chill out music and I was playing trip hop, world music like mixing it all together with some funk. Yeah so it wasn't what everyone else was playing."
The scene changed in Lebanon in a way where clubs had to close in the summer because everybody wanted to be on rooftops and there isn't enough of a crowd, because there aren't enough people in the city.
It wasn't long before Jade started setting up parties himself, supplying a growing demand for alternative music and bringing together like-minded people with a coherent taste in music. "I used to work in a record store, it was the only independent record store and it was called La CD Thèque. And there - because there wasn't Whatsapp and whatnot - I started connecting with people who used to come and buy records and I used to tell them 'hey, I'm throwing a party in like two weeks, it's on the beach, it's for 200 people only, you pay $20 and it's open bar, you drink all night, great sound system.' It wasn't for us to make any money, it was just to play music like in a club context because there wasn't really any club that was playing that kind of music. Back then in those parties I was playing electro-clash and minimal. Also we weren't allowed to sell at the door because we had no license, so if the police came we used to say 'it's a private party, come in, open drinks, no one is paying, there's no money inside and there's no money at the door.'"
The Basement (2005-2010)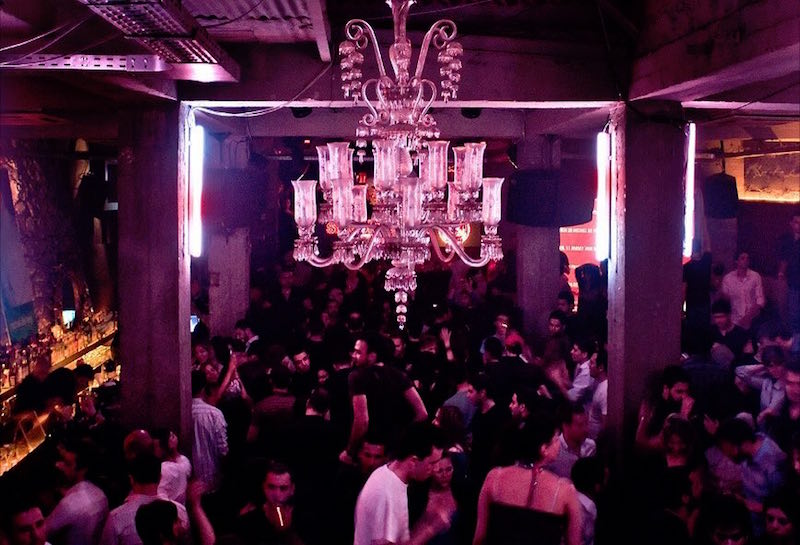 Fueled by a desire to create a space where music that couldn't make its way into other venues would finally find a permanent home, The Basement, Jade's first venue was about to come to life. Ever-cherished by Beirut's partygoers, the club would go on to be a city staple for the entire five years of its existence and continue to set the bar for other clubs in terms of vibe and intimacy, even after it closed its doors in 2011.
It began happening when Jade was playing Wednesday nights at a lounge called Lila Brown, packing it more than on a weekend. "People were thirsty for good music, for these experiences, it was innocent, you know? And then I started playing this bar called Club Social and I remember it was a bar that used to fit like 70 people and we used to have like 300 people outside every Friday after I started my residency there. And the owner was a music freak, super cool guy. I told him 'look I'm throwing these parties, look at the photos, they're always packed. I have the crowd, the crowd wants something like this, the city needs a club. I'm sure that if we open a club it's going to boom.'"
In 2005, Jade started Basement. Though he had no knowledge of bottle policy, or how to run a club, it was a huge success. "I was learning how to manage it, but I had my once a week residency and the whole managing a club thing was really draining me."
Oddly enough even with the success of The Basement, Jade never quite settled into the club owner role, in fact he didn't want to. He managed to open his own studio and started making music for ads, TV and radio while running the venue, something he considered to be the only job he could ever rely on having, alongside his work on the decks. His role in running a venue would end, and The Basement would open its doors for the final time on January 9th, 2011 as a result of what Jade describes as the "big craze of the rooftops."
The Last Dance at the Basement Beirut from Dania Bdeir on Vimeo.
"The scene changed in Lebanon in a way where clubs had to close in the summer because everybody wanted to be on rooftops and there isn't enough of a crowd, because there aren't enough people in the city. So that was making things tougher, and then the landlord wanted more rent and I wanted more music and less clubbing. So I decided to open my studio in Berlin and focus more on my music." He chose to not renew his rent, closing in January 2011. Instead of closing things down completely, they moved the concept to a once a week party called C U NXT SAT.
Riverside Studios, Berlin (2012-)
Now, before addressing C U NXT SAT and the impact it had on Lebanon's pop-up party scene, let's take a look at Riverside Studios - Jade's Berlin studios project. It's a venture that Jade undertook that is somewhat in the shadows compared to his sister venues, and is slowly becoming one of Berlin's essential creative spaces. The huge studio complex has housed resident artists and visitors ranging from Fergie to James Blake.
"I started Riverside studios in 2012 with my partners Martin Eyerer and also Tassillo, one half of Pan-Pot. We wanted to open two, three studios and now we have like 27. We have artists like David August, Booka Shade, Pan-Pot and now Richie Hawtin just took his studio with us. 25 of them are long-term lease and we manage the community, we keep it neat, we keep it sexy, we do once a month workshops and we showcase some new brands."
C U NXT SAT (2011-)
With a growing team in Beirut handling C U NXT SAT and running it like a well-oiled machine, the party brand was taking Beirut by storm. Starting at Art Lounge, they were setting up shop at a different location once a week, often in the middle of the street with their immensely popular 'On The Streets' parties. With Riverside Studios getting doused in praise, Jade understandably wanted to spend more time in the German capital and focus on music and Riverside. But this move would soon fail to actualize as C U NXT SAT would start to struggle with securing venues.
"Everyone wanted more and more money. At one point, a venue that had just an open terrace wanted $8000 a night with nothing, they don't have a bar, they have nothing. So we had to carry the bar, we had to carry the sound system, the dance floor, the lighting, the staff, all in like four hours, set the party up and dismantle at 7 AM. So it was too much effort and little money. I thought maybe it was time to partner up with operating partners and have a venue so I could move to Berlin and not stop. Because C U NXT SAT was just a party brand, we wanted something more tangible and not to lose everything we built."
The Grand Factory (2014-)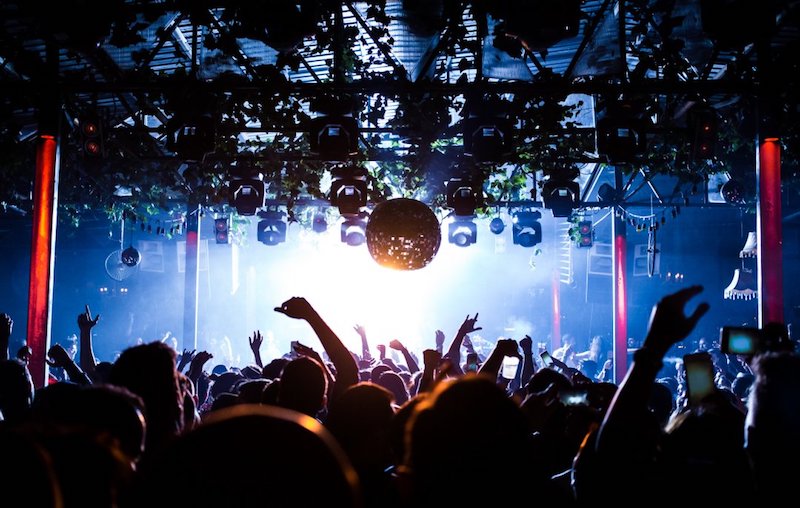 One can start noticing Jade's high adaptability here; working with the circumstances at hand rather than against them seems like something he mastered, something without which he might have struggled to stay in the industry for so long. Out of this adaptive nature, The Grand Factory finally materialises in 2014. Initially off to a rocky start, it would become one of Beirut's most essential superclubs, managing to partner with names like Watergate and Sisyphos for stand out one-night events, and inviting over musicians from across both the world and the musical spectrum.
So I went to the industrial area and I found this factory that manufactures beds, it was called Sleep Comfort, and they weren't using the rooftop. We took it, we opened it and it was supposed to be a summer venue. But there's a slaughterhouse next to us - because we're at the port - so they bring in cattle every week, so it stank like fuck!
"So I went to the industrial area and I found this factory that manufactures beds, it was called Sleep Comfort, and they weren't using the rooftop. We took it, we opened it and it was supposed to be a summer venue. But there's a slaughterhouse next to us - because we're at the port - so they bring in cattle every week, so it stank like fuck! We thought we were really going to lose it, you know? But then we closed it again and it became a huge winter destination because we did it all in glass. It grew a lot, so it took more of my time in Beirut, I couldn't move completely to Berlin."
Soon, and for the first time, Jade would break this trend of opening venues out of the need to ensure continuity and survival. He created this venue as an effort to expand, creating a playground that he had dreamt up in his mind for a long time, a tribute to the venue that started it all for him. The crowd was about to be introduced to Reunion.
(Reunion 2016)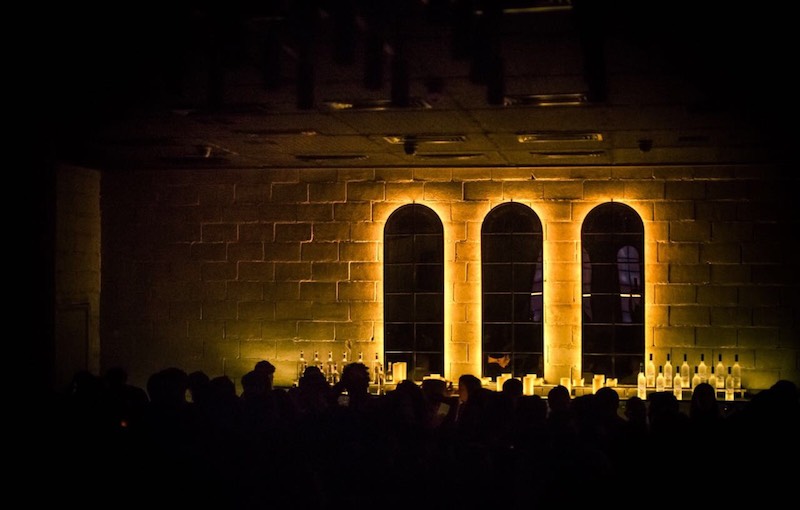 Because of the competition that started popping up in Lebanon, and because the newer venues, who in order to get a foothold in the market started booking international artists at an insane rate, TGF had to up their game to keep up. But all of this had taken its toll on Jade and started demotivating him to continue with the venue, given that the path he was now taking with The Grand Factory was straying away from its intended ethos.
The Late Knights "+1" initiative urges all of their partygoers to be mindful and bring a donated item of clothing with them, which are then collected and distributed to support those who are unable to protect themselves during the cold winter season.
"I was actually at my parents' place after lunch and I was sitting there like 'ok, I'm fucking done.'" So I called Tala and told her 'look, either I close the club… again' [laughs] - even though it was doing well - 'or I open a new club.' She was like 'Are you crazy?! You're complaining about operating a club all the time and you already closed The Basement for that.' I told her 'I have to open a club for 100 people with the best sound system ever and with no headache to communicate - it will only be by word of mouth. We don't want to announce who's playing. I will play there once a week all night long or I'm gonna die.' So she said 'ok - there's space still in the factory.' And immediately I was like, 'Fuck! How didn't I think of that?'"
Reunion came together one piece at a time to form as a tribute to The Basement. Jade even ended up hiring the same designer and furniture suppliers who took care of things there, and the sound system installed by a company called 21dB would end up being the crown piece of the room.
Late Knights (2015)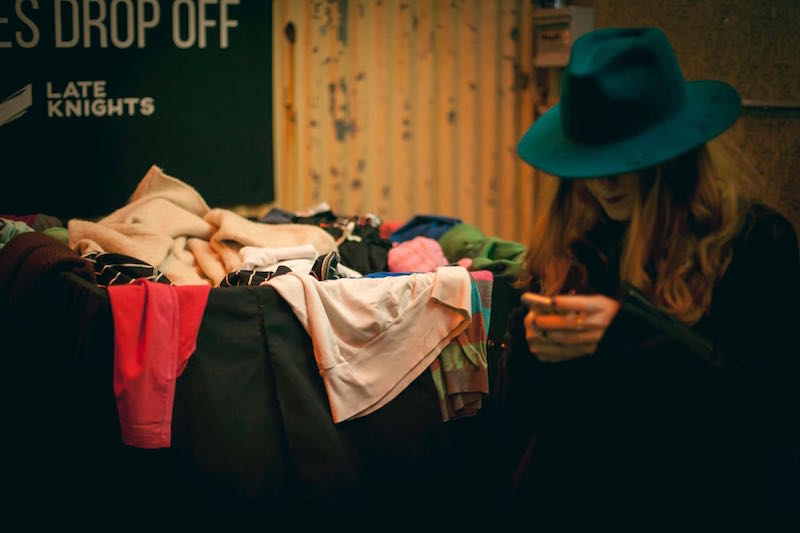 In 2014, while Tala and Jade were developing the creative concept of The Grand Factory, they were joined by their friend and frontman of Who Killed Bruce Lee, Wass, who was focusing on the marketing aspects.' The three of us became a creative nucleus for all our projects; we developed our communication, grew all our brands, and created our CSR platform: Late Knights." The Late Knights "+1" initiative urges all of their partygoers to be mindful and bring a donated item of clothing with them, which are then collected and distributed to support those who are unable to protect themselves during the cold winter season.
Clap Clap (2017-)
With Wass on board for two years now, and their creative / marketing team growing, another friend and marketing expert, Sam Makarem joined in 2017 to complete the circle, and thus they decided to go public with their Creative Studio: Clap Clap. "Clap Clap is a full-service creative studio that is now at the core of all our projects; in addition to servicing other clients in the entertainment and F&B industries. At the Clap Clap HQ, all the concepts, art direction, communication & creative content of all the outlets are derived & implemented."
AHM (2017)
By that point, this rooftop trend that Jade had shed light on was taking on another form. Promoters like Überhaus were achieving massive success with their waterfront venue, The Gärten, and more clubs were following suit. With The Grand Factory being only a winter venue, Jade, Tala and their team were faced with a tough choice. Again, adapting to their market on their own terms, the created AHM. Pronounced like 'âme' which is soul in French, it also stands for Atom Heart Mother, Jade's favorite Pink Floyd album. The venue was a summer smash hit in summer of 2017, bringing in the likes of Sven Väth, Nastia and KiNK in a startling setting.
"Last year I said 'guys, we're getting really tired in the summer moving from venue to venue, we're losing money. We have our staff, we have to pay our salaries and we have a big following so why keep losing money in summer?'"
"On the waterfront there used to be a big pile of trash, but the government took it and dumped it somewhere in the sea - that left an extra piece of land that's not actually on the map. So there was a very big question mark about us using this land that has no history, whereas with The Grand Factory there's a history there; it has a story, it's real. But we realised that the history there is the sea, because actually where we were standing in AHM is the water, because this land didn't exist before."
AHM wouldn't be the last venue to pop up under The Grand Factory umbrella. March 3rd of this year, they unveiled their third room - Soul Kitchen.
Soul Kitchen (2018-)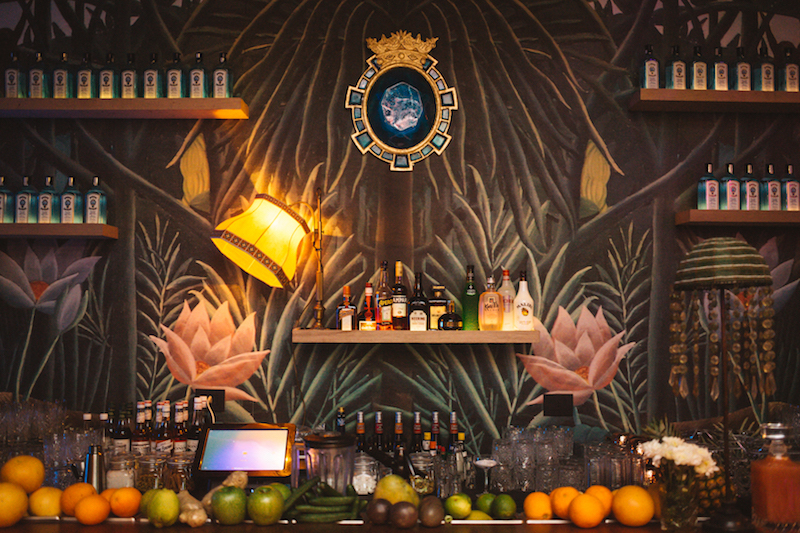 The idea was to not stay restricted to one genre; Clap Clap members wanted to promote other sounds. Inspired by Afrobeat, reggae, dub and funk, the room aims to provide a more laid back setting than its older sisters. It's a vinyl only room, laced with greenery and featuring a cocktail-only bar. The room also sports a vinyl shelf that sources records from a brand new record store called The Lick, another Jade-partnered undertaking.
The Cutthroat Competitiveness of the Lebanese Scene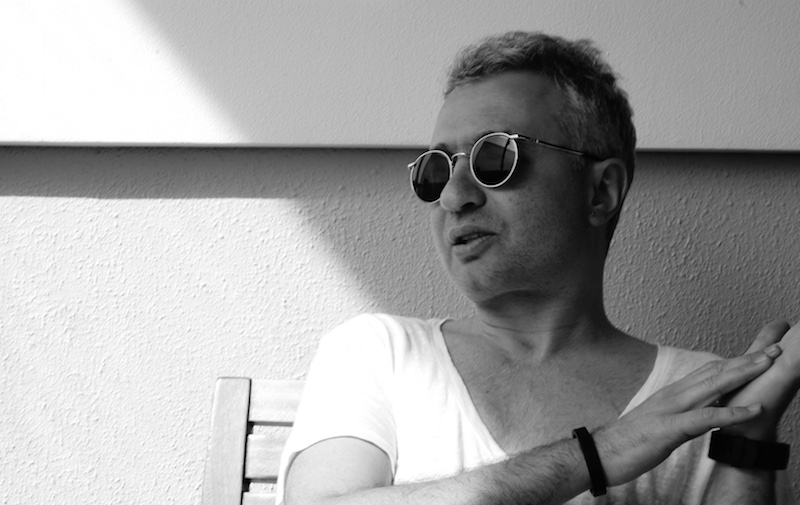 "It's so competitive because there aren't enough people, so we're fighting for the same piece of cake, and there's a huge ignorance. So people go out and see a club that's full and they'd be like 'oh, I want to open my own club.' So suddenly every year you have like two clubs popping up, it's the latest trend now. They reach out to DJs that we invite and they offer them five times the fees. FIVE! Some DJs who actually perform for €2000 or €3000 received offers of €20,000. So they try to buy their credibility by booking the medium caliber DJs with huge fees so that they could reach the higher ones. They won't be able to sustain that business model and they're drowning, but they're going to take the other clubs with them, because these fees are ruining the scene. It's very bad and we know, so we're just watching. Sometimes we struggle, sometimes we are on top, but the goal is not to be on top. We want to keep challenging ourselves to push forward new ideas, keep ourselves creatively hungry, and never lose the fun."
You know there's the why, the what, and the how, right? Our why is music and I think when your why is money or fame or being cool or meeting DJs or rock n' roll then it's not easy to sustain your mission.
In the end we couldn't miss the chance to ask Jade if he has a message for young promoters out there, how to make it organically and avoid the toxic practices that make it harder for everyone to get along. His answer was very poised and simple, yet still carried tremendous weight.
"Start small, start with your friends and then whatever you do, it will be real, because you're going to grow your circle solidly. Why are we still here 13 years later? Because we started in a bar of 70 people. And why are we still here when other clubs started 5 years ago, and now they're in the shadow when they're the ones who actually have all the big bookings? Because when you start big you're buying people's loyalty. You can't buy people's loyalty; you can only buy it for a little time, and when you want to actually have a loyal following, you don't get it with big bookings."
"You know there's the why, the what, and the how, right? Our why is music and I think when your why is money or fame or being cool or meeting DJs or rock n' roll then it's not easy to sustain your mission."
Follow Jade on Facebook and Soundcloud
Follow The Grand Factory on Facebook and Instagram
Follow The Lick on Facebook and Instragram
Main Image by SceneNoise / Fares Zeitoun